Have you ever wondered about doing triathlon?
Fitzroy Frogs invites you to take the plunge in 2022 and start your triathlon journey.
Contrary to what you may believe, you don't need to be a supreme athlete to do a triathlon.
If you are total beginner, set a realistic target of doing an enticer or sprint event in three to six months time; giving yourself time to progressively develop the skills, strength and endurance you need for the event.
Enticer event = 300m Swim / 20km Ride / 2.5km Run
Sprint Event = 750m Swim / 40km Ride / 5km Run
Fitzroy Frogs are here to help you on the journey with local events, social training groups (see Try2 facebook page) and a band of friendly supporters that can assist with advice.
Specialised coaching is recommended to refine specific skills and accelerate your training, especially if you have no prior swim, ride or running experience – but coaching is not essential.
If you have been inactive for some time or have potential underlying medical issues, it is also advisable to consult you medical practitioner about your intentions.
Stop Wondering Start Training.
Having done a couple of local club events in the lead up, The Yeppoon Triathlon Festival on the 20th and 21st of August is a fantastic target date for your first major event.
What to do now?
Pencil YTF in your event calendar,
Begin a training program (see program page for advice),
Get involved with Fitzroy Frogs, and
Make your triathlon dream a reality.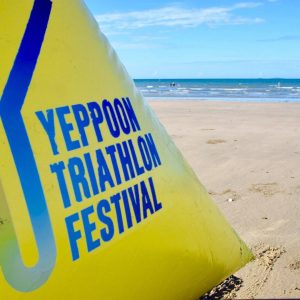 YTF – 20th and 21st August 2022