Despite what you may think, triathlon accommodates a wide range of participation, so perhaps it's time to let your inner triathlete shine.
Triathletes come from various walks of life, including walkers that become runners, runners that become cyclists, cyclist that become swimmers and swimmers that become runners – you get the picture.
Events vary but typical age and distance combinations are described in the diagram below (source Triathlon Australia).
Even if these events are beyond your current ability, we encourage you to come along and set your triathlon career in motion, by:
Entering an event that you know you can manage, just to become familiar, or
Perhaps you would prefer to join a team and learn from the advice and experience of others, or
What about a Duathlon (Ride-Run) or Aquathlon (Swim-Run) if you are not quite ready for all three legs?
Fitzroy Frogs is a friendly club where you will be welcomed and encouraged. We will definitely support your transition into what we know is a fantastically enjoyable and rewarding sport, so please come and join us.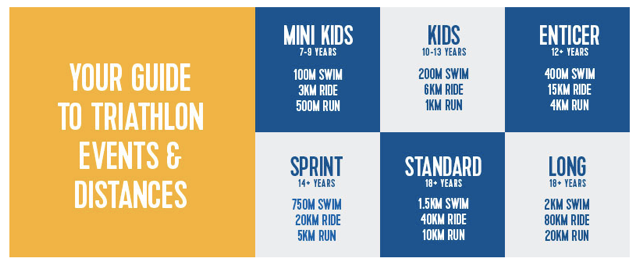 You don't need to spend a bunch of money on triathlon-specific gear to do a triathlon. It's more than likely that you already have most of the equipment you'll need. Here's a list of basic gear that will get you started:
Swimsuit – any swimsuit will do just something comfortable that won't fall down or off in the ocean.
Goggles – any pair that fit!
Swim cap – a bright coloured cap. But don't worry if you don't have one, we can provide you with one.
Towel – this will help you dry off a bit after your swim during transition. Great for getting sand and dirt off too.
Bike – mountain or road whatever is in your shed. We would recommend if you are on a mountain bike to swap out your knobby tyres with slicks for a bit of extra speed.
Helmet – you will not be allowed to ride without one of these.
Running shoes – make sure they fit and are comfortable to run in. You may or may not want to wear socks with them.
Exercise clothing – yes there are loads of trisuits and clothing available out there but if you're just starting you can just pull on some exercise gear over your bathers for the bike and run.
Water Bottle – make sure you have water on your bike and in transition.
Some optional equipment include hat, sunnies, bike shoes and clip-less peddles, spare parts bag on your bike (in case of a flat), running belt to hold little water bottle, shirt for sun safety, and many more but you can worry about this once you get into it.
If you don't have some of this gear but want to have a go there are plenty of Frogs around that have spares and may be willing to lend you something so you can have a go – just ask on our facebook discussion page.
Welcome to Triathlon!