October 19, 2018
–
October 21, 2018

Details
Fitzroy Frogs are headed to Great Keppel Island (GKI) for a weekend of swimming, running and random fun (SR&RF).
And you are invited to join us.
ABOUT THE GKI SR&RF WEEKEND
For many years, CQ athletes have looked out across Keppel Bay and wondered "
why don't we have an event on Great Keppel Island?
".
"Wonder no more Central Queensland, Frogs are heading to the island"
When:
                         Friday 19
th
 October to Sunday 21
st
 October
Why:
                           Because we can
What will we do:
     Swim, run and have lots of random fun
EVENT DETAILS
Event details may vary a little
,
 but the program will look something like the following:
Saturday morning
: – Ocean swimming (3km, 2km, 1km and 500m events, including all four if you are up to it) – The 3km swim will commence at 8:45, which allows participants not already on the island to catch the 7:30am Keppel Konnections transfer from Rosslyn Bay harbour
Saturday afternoon:
– Random Fun – why not hire a kayak and/or some snorkelling gear from GKI adventures, visit some of the nearby beaches, practice your beach volleyball or find a shady spot under a palm tree – For anyone leaving the island on Saturday afternoon, your transfer departs at 4:00pm – If anyone is keen, some swim coaching may be available too
Sunday:
– Trail running/hike (various distance options) – The run/hike will commence at 8:00am, which allows participants not already on the island to catch the 6:45am "Special" Keppel Konnections transfer from Rosslyn Bay Harbour – Participants are required to return to the GKI Hideaway by 2pm – For those of us leaving the island on Sunday afternoon, our transfer departs at 4:00pm Events will be relatively non-competitive, but participants will represent their Local Government area in 
"The Southern Reef Regional Challenge"
"Event start times will be scheduled to allow participants to arrive on the early morning ferry, but please consider staying on the island to make the most of your weekend"
EVENT ENTRY FEES
Please note that U15 distance constraints may apply (Craig is working on it).
| | | | |
| --- | --- | --- | --- |
| Event Participant Registration Fees | Triathlon Australia Members | Non-TA Members | Family Mum and/or Dad and the Kids |
| | | | |
| Saturday Swim | U15 Free / 15yrs+ $25 | U15 $25 / 15yrs+ $45 | $105 |
| Sunday Run/Hike | U15 Free / 15yrs+ $25 | U15 $25 / 15yrs+ $45 | $105 |
"Online Event Registration will open in late September, but organise your friends and book your accommodation early"
TRAVEL, ACCOMMODATION AND MEALS
To maximise event participation "athletes" and their support crew are encouraged to be a little compromising with accommodation arrangements, but we have secured the following 2-night packages with our friends at Great Keppel Island Hideaway & Keppel Konnections.
"Ferry transfers and meals are included, so all you need to do is pack your togs and runners and get yourself to Rosslyn Bay Harbour"
2-Night Accommodation Package Costs:
– Beachfront (quad share) $260 pp – Island (quad share)          $245 pp – Garden (tri share)             $240 pp – Bunkhouse (quad share) $220 pp – Safari Tent (twin share)   $220 pp
To book or make further enquiries about accommodation, call or email Great Keppel Island Hideaway
P: (07) 4939 2050
E: 
[email protected]
And here's the Menu:
Day 1        Dinner            Roast buffet Day 2        Breakfast        Continental breakfast (hot breakfast upgrade available) Day 2        Lunch              BBQ buffet Day 2        Dinner             Parilla (Argentinian BBQ) Day 3        Breakfast        Continental breakfast (hot breakfast upgrade available) Day 3        Lunch              Fish and chips
COURSE MAPS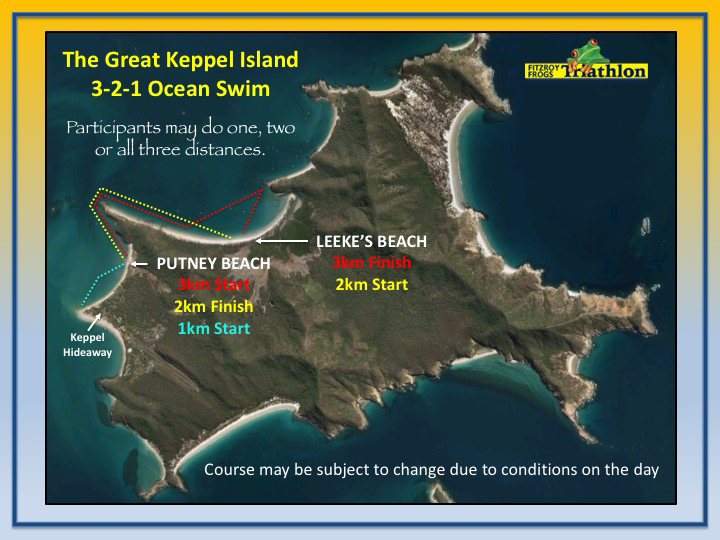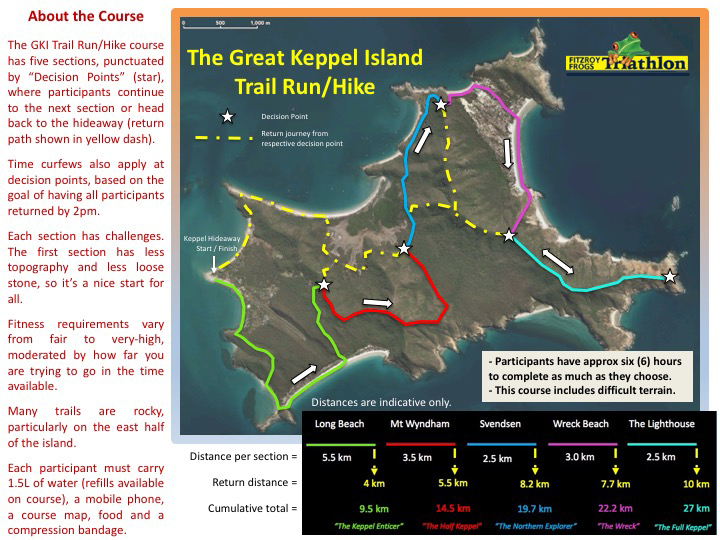 MORE INFORMATION
No doubt there will be many questions, most of which I trust we can help you with and some for which I apologise in advance for not knowing the answer – yet. But we will do everything possible to make your weekend spectacular. The GKI SR&RF Weekend is going to be full of cool stuff and wonderful people. I hope you can join us. Craig McCormack Accidental President, Fitzroy Frogs Triathlon Incorporated E:         
[email protected]