June 15, 2019
@
8:00 am
–
June 25, 2019
@
4:00 pm

The GKI is a fun weekend that allows participants to do an Ocean Swim event on Saturday 15th June and/or a Trail Run/Hike event on Sunday 16th June.
Activities are friendly and non-competitive, although we do have a little bit of prize money on offer for those keen to test themselves against Sundays Full Keppel (27km trail run).
You can attend either day (remember that you'll need to catch a ferry or find other means to the Island), or why not spend the weekend on the island by taking advantage of the two-night accommodation package?
CLICK HERE FOR ONLINE REGISTRATIONS – OPEN NOW!
About the Events
Both the swim and run/hike events are designed to be as inclusive and user friendly as possible, including the opportunity to go the full distance or opt for one of the shorter distances during the event.
The Ocean swim consists of a 5km course with options to exit at 1km, 2km, 3km and 4km. BONUS – you also have the option to opt back in at one of the next stages. Water safety will be on standby, but participants need to be sufficiently proficient swimmers to enter this event.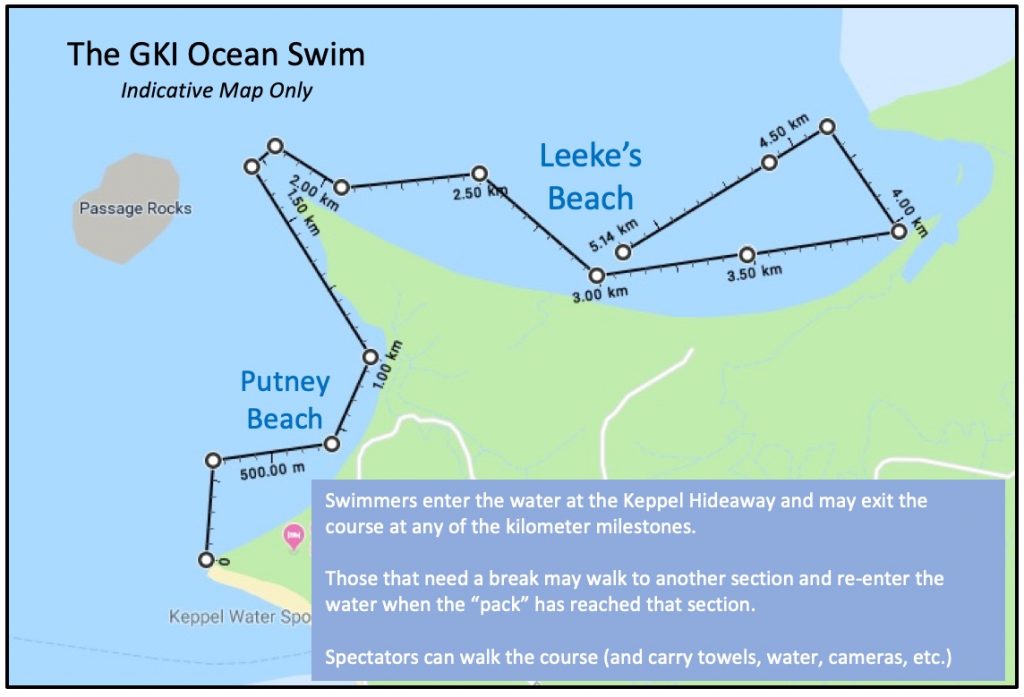 The Trail Run/Hike Consists of five sections that total 27km ("The Full Keppel"). There are four optional exits along the course that allow participants to complete the shorter distances of 9.5km, 14.5km. 19.7km or 22.2km.
Those with a podium finish for The Full Keppel will also score prize money – $500 first $200 second $100 third for both men and women – that's a prize pool of $1600!
Runners/Hikers must return to the Hideaway by 2pm (max time on course is 6 hours) and need to carry water (basic first aid and phone are recommended).
If you would like you volunteer please email [email protected]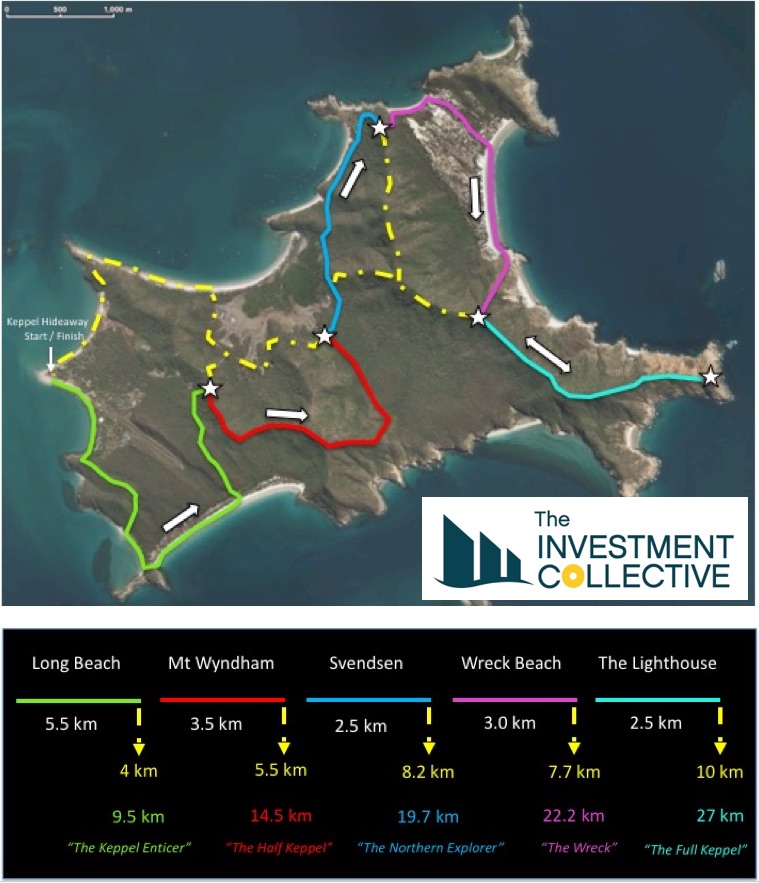 Event Registration Details
Click hete to register for either or both events online.
Costs of event registration are:
Event
Adult
TA

Adult
Non-TA
Junior
TA
Junior
Non-TA
Family
(2A + 2C)
Swim
(Sat)
$15
$25
Free
$15
$70
Run/Hike
(Sun)
$25
$45
Free
$25
$110
Swim &
Run/Hike
(Sat&Sun)
$40
$70
Free
$40
$180
*TA – Triathlon Australia Member
**Prices do not include ferry transfers or accommodation – read on for ferry transfers and accommodation packages and deals.
Getting to the Island
Participants and Supporters need to find their own way to the Island.
Keppel Konnections offer the following return fare prices:

$30 adult
$15 child
$80 family (2A & 2C)
To book your ferry transfer with Keppel Konnections call 0484 241 505, or online at www.keppelkonnections.com.au
(Note: Hideaway accommodation packages include ferry transfers)
Accommodation on the Island
For those keen to spend the weekend on the island, why not take advantage of the Hideaway's special package, which consists of two-nights accommodation and meals (Friday and Saturday nights).
Huge advantages of the accommodation package include the opportunity to relax or explore a tropical island and socialise with like minded people across the whole weekend.
This weekend special package includes:
– Return ferry transfers,
– Two nights accommodation (Friday and Saturday)
– All meals from dinner Friday through to lunch on Sunday.
| | | |
| --- | --- | --- |
| | Twin Share | Quad Share |
| Garden Room | $275 pp | $235 pp |
| Family Room | $265 pp | $225 pp |
| Additional night | $120 pp | $100 pp |
| Children (4-12 yo) | $75 pp (existing bed) | $90 pp (extra bed) |
To discuss or book your accomodation with the Keppel Hideaway:
Call: 4939 2050, or email: [email protected]
The Southern Reef Regional Challenge
Despite this being a non-competitive weekend, there will be a little challenge happening between regional centers with points allocated to the first, second and third male and female for each event section. Points will be totaled to see which local government area takes out the 2019 GKI Southern Reef Regional Challenge (Currently Rockhampton holds the bragging rights, but we suspect Livingstone and Gladstone to come out firing this year).
Weekend Program
At the time of writing, the weekend program looks like this ( subject to minor changes).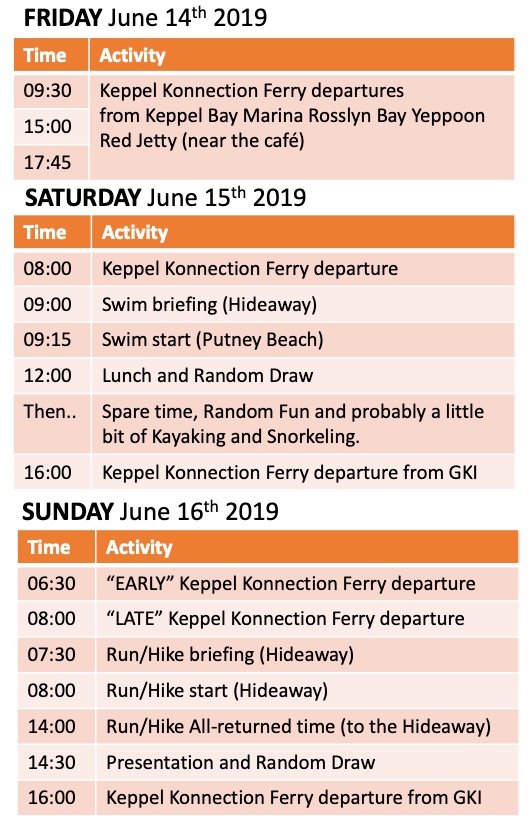 Thanks to our Supporters
Fitzroy Frogs Triathlon Club would like to thank the following supporters for their assistance with this years event.